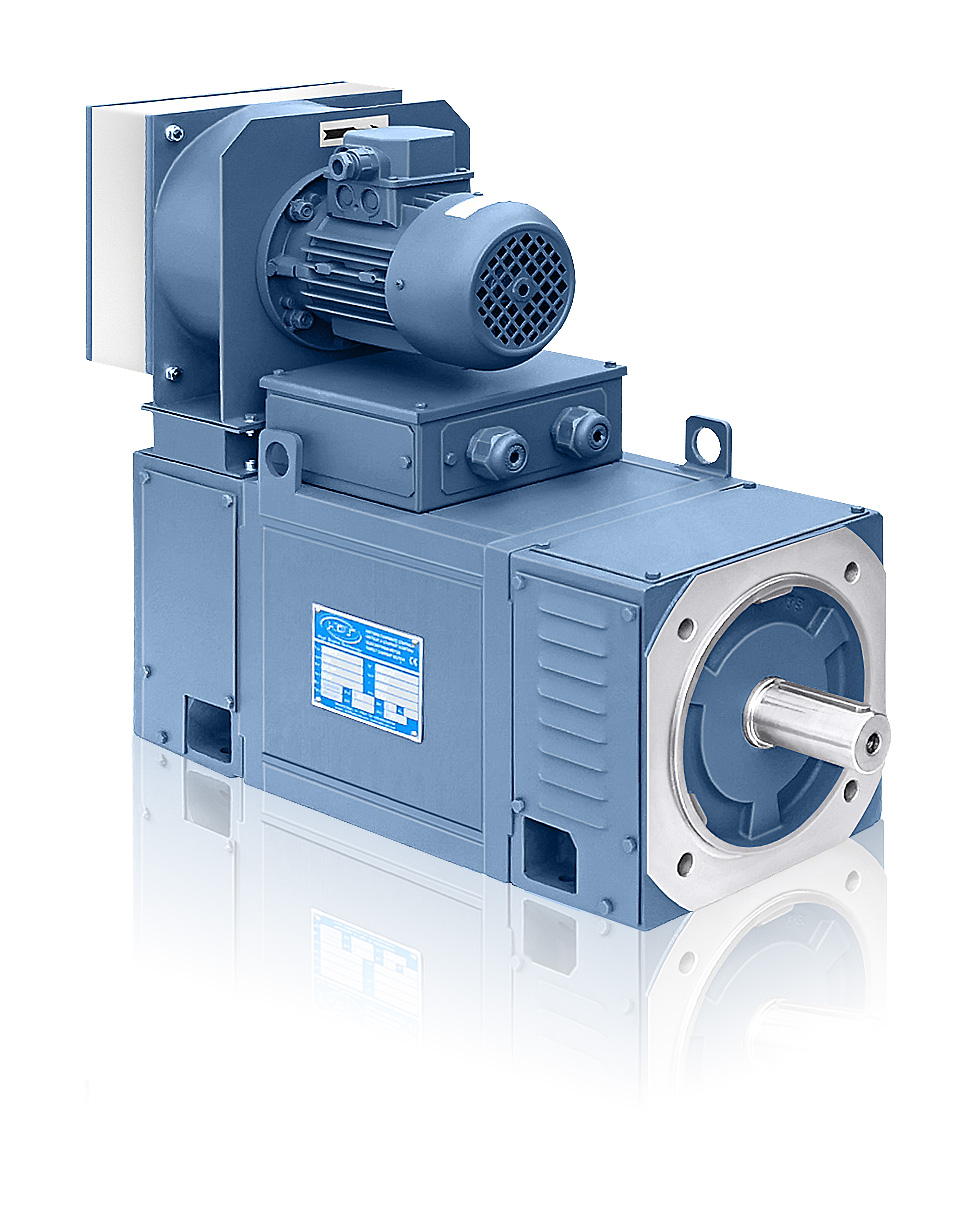 Direct current motor in square box with reed valve with axis height of 112mm.
Developed on 4 shaft lengths (S - M - L - G) for powers from 10.6kW to 36kW.
All motors are servo-ventilated and can be equipped with a tachometer dynamo, incremental encoder and parking brake.
The execution can be carried out according to various windings for different speeds and powers up to 3000rpm and for different excitation voltages.
The position of the ventilation and the terminal box can vary according to requirements.
General specifications
Brake




- optional. Electromagnetic single disc parking brake.

Winding

Excitement


- Independent excitation with voltages of 110V, 190V, 330.

Supply voltage


- Various standard power supply voltages according to table.Customizable on request.

Insulation

- motor insulation in class F
- winding and related material in class H

Sensors

Standard


- n°2 Thermal protectors in series on stator windings

Cooling

- forced ventilation (IC06)

Standard protection




- IP23S: protected motor
- IP54 : enclosed motor

Terminal box




- 6-terminals terminal block.
- Marking according IEC 34-8
- Armature terminals M8 ( sigla A1-A2 for armature - B1-B2 for auxiliary poles )
- Excitation terminals M6 (sigla F1-F2)
- Thermo protector terminals M6 ( mark P-P )

Vibration balacing




- The balancing of the rotor is carried out with a half key on the end of the axis.Therefore it is necessary that pulleys, joints or other components keyed on the motor axis are also balanced in the same way.
- Balancing according to grade N.

| | | | | | | | | | |
| --- | --- | --- | --- | --- | --- | --- | --- | --- | --- |
| Motor type | B | D | E | F | G | L | M | N | S |
| A112S | 255 | 38 | 80 | 10 | 41 | 527 | 215 | 180 | 14 |
| A112M | 290 | 38 | 80 | 10 | 41 | 562 | 215 | 180 | 14 |
| A112L | 330 | 38 | 80 | 10 | 41 | 602 | 215 | 180 | 14 |
| A112G | 360 | 38 | 80 | 10 | 1 | 632 | 215 | 180 | 14 |
Windings
Electrical data A112S - IC06
Motor type A112S

290V

400V

440V

520V

Winding code
n
P
I
Eff.
n
P
I
Eff.
n
P
I
Eff.
n
P
I
Eff.
rpm
KW
A
rpm
KW
A
rpm
KW
A
rpm
KW
A
1
2970
21
80.46
0.90
2
2510
17.57
68.85
0.88


3
2160
15.19
60.21
0.87
3090
21.70
60.28
0.90
4
1890
13.44
53.89
0.86
2720
19.04
53.48
0.89
3020
21.21
53.56
0.90
5
1680
11.90
48.85
0.84
2420
17.01
48.32
0.88
2690
18.90
48.26
0.89
3230
22.40
47.86
0.90
6
1510
10.64
44.20
0.83
2180
15.40
44.25
0.87
2420
17.01
43.93
0.88
2910
20.44
43.68
0.90
7
1970
14.00
40.70
0.86
2190
15.40
40.23
0.87
2650
18.55
40.08
0.89
8
1800
12.60
37.06
0.85
2000
14.21
37.55
0.86
2420
16.94
37.02
0.88
10
1530
10.85
32.29
0.84
1710
12.25
32.75
0.85
2070
14.70
32.49
0.87
11
1590
11.20
30.30
0.84
1920
13.65
30.52
0.86
12
1470
10.36
28.37
0.83
1780
12.60
28.51
0.85
13
1580
11.20
25.64
0.84
14
1470
10.50
24.33
0.83
Excitation power: 514W
Electrical data A112M - IC06
Motor type A112M

290V

400V

440V

520V

Winding code
n
P
I
Eff.
n
P
I
Eff.
n
P
I
Eff.
n
P
I
Eff.
rpm
KW
A
rpm
KW
A
rpm
KW
A
rpm
KW
A
1
2330
19.58
76.72
0.88
3310
27.50
76.39
0.90
2
1960
16.67
66.84
0.86
2810
23.33
65.53
0.89
3110
25.83
65.23
0.90
3
1700
14.17
57.48
0.85
2430
20.25
57.53
0.88
2700
22.50
57.46
0.89
3230
26.67
56.99
0.90
4
1470
12.50
51.93
0.83
2130
17.92
51.49
0.87
2370
20.00
51.65
0.88
2840
23.75
51.32
0.89
5
1900
15.83
46.02
0.86
2110
17.51
45.75
0.87
2530
21.25
46.44
0.88
6
1700
14.17
41.68
0.85
1900
15.83
41.83
0.86
2290
19.17
41.89
0.88
7
1540
12.92
38.45
0.84
1710
14.58
38.98
0.85
2070
17.08
38.19
0.86
8
1400
11.75
35.39
0.83
1570
13.17
35.63
0.84
1890
15.83
35.40
0.86
9
1440
12.08
33.08
0.83
1740
14.58
32.99
0.85
11
1500
12.50
28.62
0.84
Excitation power: 578W

Electrical data A112L - IC06
Motor type A112L

290V

400V

440V

520V

Winding code
n
P
I
Eff.
n
P
I
Eff.
n
P
I
Eff.
n
P
I
Eff.
rpm
KW
A
rpm
KW
A
rpm
KW
A
rpm
KW
A
1
1860
19.12
76.66
0.86
2660
27.38
76.91
0.89
2940
30.48
76.97
0.90
2
1560
16.53
67.86
0.84
2240
23.25
66.00
0.88
2490
25.83
65.96
0.89
2990
31.00
66.24
0.90
3
1340
13.95
57.96
0.83
1940
20.15
57.90
0.87
2160
22.22
57.39
0.88
2590
26.87
58.06
0.86
4
1700
17.57
51.08
0.86
1890
19.63
51.28
0.87
2280
23.40
51.27
0.88
5
1510
15.50
46.13
0.84
1680
17.57
46.43
0.86
2020
21.18
46.82
087
6
1350
13.95
42.02
0.83
1510
15.50
41.44
0.85
1820
19.12
42.26
0.87
7
1360
13.95
38.20
0.83
1650
17.36
38.82
0.86
8
1510
15.50
35.49
0.84
9
1380
14.47
33.53
0.83
Excitation code: 653W
Electrical data A112G - IC06
Motor type A112G

290V

400V

440V

520V

Winding code
n
P
I
Eff.
n
P
I
Eff.
n
P
I
Eff.
n
P
I
Eff.
rpm
KW
A
rpm
KW
A
rpm
KW
A
rpm
KW
A
1
1610
18.88
75.70
0.86
2300
27.14
76.24
0.89
2560
30.09
75.98
0.90
3060
35.99
76.06
0.91
2
1350
15.93
65.39
0.84
1940
23.01
66.12
0.87
2160
25.49
65.09
0.89
2600
30.68
65.56
0.90
3
1160
13.57
56.38
0.83
1680
20.06
57.64
0.87
1870
22.42
57.90
0.88
2250
26.55
57.37
0.89
4
1470
17.11
50.32
0.85
1630
19.47
51.45
0.86
1970
23.60
51.57
0.88
5
1300
15.34
45.65
0.84
1450
17.11
45.75
0.85
1760
20.65
45.65
0.87
6
1170
13.53
40.87
0.83
1310
15.34
41.50
0.84
1580
18.29
40.90
0.86
7
1180
13.57
37.16
0.83
1430
16.52
37.38
0.85
8
1300
15.34
35.12
0.84
9
1190
14.16
32.81
0.83
Excitation power: 726W
Brake
Brake Size

Braking torque

Power

Supply Voltage

Speed

Gap min/max

Traferro min/max




Nm

(W) 20°C

(V) DC

(rpm) Max

Type 48

Type 50

06
4
20
24
3000
0.2
0.5
0.15
0.5
08
8
25
24
3000
0.2
0.5
0.15
0.5
10
16
30
24
3000
0.2
0.5
0.15
0.5
12
32
40
24
3000
0.3
0.7
0.2
0.7
14
60
50
24
3000
0.3
0.8
0.2
0.7
16
80
55
24
3000
0.3
1.0
0.2
1.0
18
150
85
24
1500
0.4
1.0
0.3
1.0
20
240
100
24
1500
0.4
1.2
0.3
1.2
25
360
110
24
1500
0.5
1.4
0.4
1.4