Adjusting has never been easier

.
Caliper is the software tool designed to make it easy to calibrate your servo drive and motor via Microsoft Windows operating systems. An extremely intuitive graphical interface that speeds up and makes it even easier to access the entire set of features available on all HDT servo drives via a fast USB 2.0 port. Nothing could be simpler. With Caliper you will select the applications, save and load the data but you will also have a powerful professional oscilloscope for fine adjustment of the control loops, autophasing tools, instruments for automatic reduction of motor cogging, an observer filter to suppress vibrations , a Fieldbus analizer to check the state of fieldbus communications and many other functions to help you to adjust as good as possible your applications .



Oscilloscope

Caliper integrates a powerful oscilloscope useful in order to check the progress of various drive variables. It is possible to display 4 channels simultaneously with samplings up to 100µs. With the oscilloscope tool it is possible to set the various channels to be displayed and the sampling period as well as trigger an input in various modes. It is possible to set the PID regulator by evaluating the waveform during operation and also the oscilloscope allows you to acquire and record the waveforms, save them and print them.



Fieldbus management.

Caliper allows the selection of the operating mode between analogue or fieldbus (if present as an option). Depending on the selected fieldbus, the values and addresses of all the parameters are displayed and are shown next to the parameter itself to facilitate its management and debugging.The fieldbus, once selected, shows the relative state machine as per protocol. The interface allows to verify the communication through the Status word and the Control word.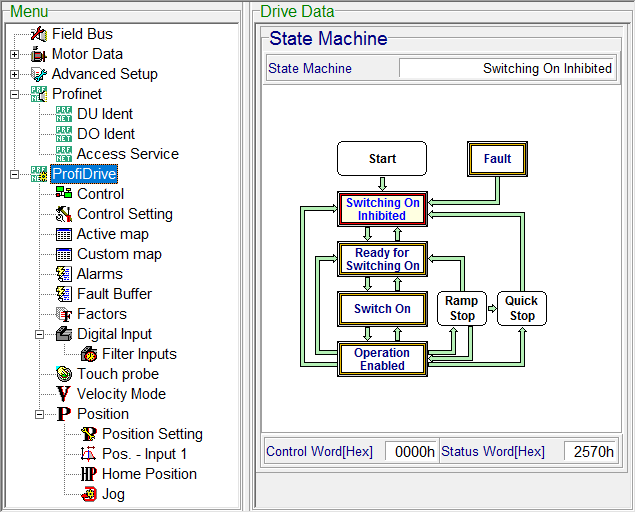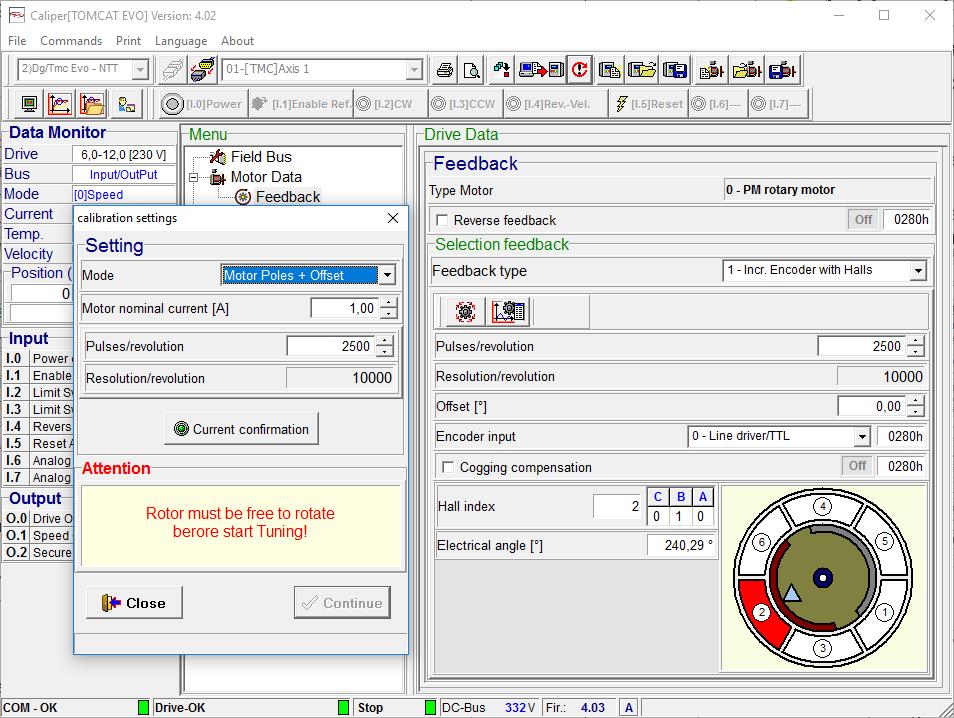 Motor autophasing.

Caliper is equipped with an autophasing command to allow the drive to identify the number of poles of the connected motor and the offset of the feedback used.This procedure can be adopted when it is intended to couple and guarantee the correct operation of a third party motor.The motors of H.D.T. are already phased to the default value provided by the drive, therefore, in conditions of first commissioning, it is not essential to perform autophasing.


Operating modes and integrated applications.

Caliper allows to activate and parameterize the operating modes and the applications integrated in the HDT drives such as the "Speed", "Torque", "Speed and Torque limit" modes and the apllicatives "Multi-positioner", "Electric Axis", "Electrtonic Cam" and " Pressure control ". For each selected mode, the I/O are automatically configured by default but can be reset at will from easy and intuitive menus, as much as you can set the values of the points that make up the electronic cam, or the reduction ratios between master and slave in the electric axis or the target positions to be reached in the multi-positioner application.