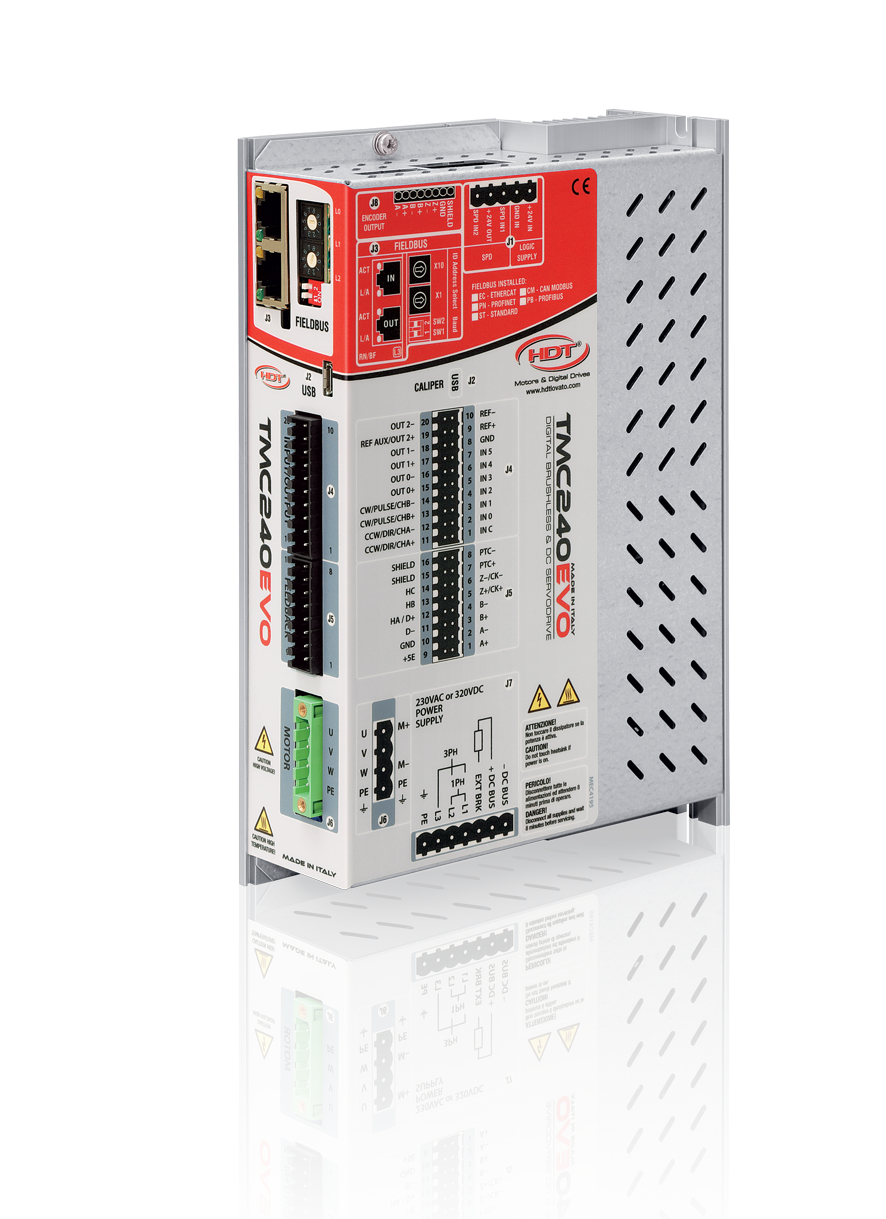 Description
The TMC240Evo® series by HDT includes a complete range of digital servo drives in single-axis execution for operation on 230VAC single and 3-phases networks with current sizes up to 6A corresponding to nominal powers up to 2W. TMC240Evo® allows the motor control of brushless, asynchronous, DC PM and linear servomotors.
Piloting both from analog reference and from EtherCat, ProfiNet, CanOpen and Modbus protocol. Feedback from incremental encoders, SSI absolute encoder and resolver. TMC460Evo® integrates speed, torque, positioner, electric axis, electronic cam and pressure control as standard.
An Ethernet port allows connection to the corporate network and also remote monitoring. Easy to program, they connect via the USB port to the fast Caliper management software..
Main Features.
Control method

Digital regulation loop for torque, speed and position

.

- for AC brushless synchronous motor,rotary and linear: FOC control, SVM modulation, with feedback or sensorless.
- for rotary asynchronous motor: V/Hz and FOC control, SVM modulation with feedback or sensorless.
- for DC synchronous rotary brushless motor: trapezoidal modulation when using a feedback only from HALL sensors.
- for permanent magnet DC motor (rotary) with encoder feedback.

Main reference

Analog

±10V differential speed and torque 12Bit

Auxiliary reference

Analog

0/+10V single ended - 12Bit

Frequency reference

Speed and position

- Pulses and direction ( 2MHz )
- Incremental encoder A/B( 2MHz )
- CW/CCW ( 2MHz )

Optional fieldbuses

- Modbus RTU
- CanOpen Cia402
- EtherCat CoE ( DS402)
- ProfiNet RT ( CC-A, CC-B ) - IRT ( class AC1 - AC3 - AC4)

Main feedback

Hall's sensor

- with sequence at 120° angle

Encoder

- Incremental 5V Line Drive with/without Hall sensors ( adjustable power supply from 5 to 9)
- 32 Bit Absolute Enc. SSI (Bin) (adjustable power supply form 5 to 9V)
-32 Bit Absolute Enc. Biss (B-C) (adjustable power supply form 5 to 9V)
- 32 Bit Absolute Enc. Endat 2.1-2.2 (adjustable power supply form 5 to 9V)

Sensorless

- Sensorless control for asynchronous FOC and V / Hz control

Second optional feedback

Resolver

- 2 poles Resolver. A/D converter at 16 Bit with simjulated encoder ouput 5V Line Drive.

Encoder output

Simulated encoder

- Incremental Enc. 5V Line Drive (only for resolver): possibility to select 256, 1024, 4096 or 16384ppr

Repetition

- ABZ channels repetiotion of the main feedback
- Frequency reference repetition

Control mode

Speed

- Speed with/without torque limiti. Adjustable trapezoidal or "S" ramps.

Torque

- Torque control

Position

- Multi-positioner: Single target, from cyclic/acyclic table, analog
- Electronic gearbox: refercences from CW-CCW, A/B channels and puse/direction
- Electronic cam: references from da CW-CCW e A/B channels

Pressure

- Pressure control

Configurable inputs and outputs

Input

- 6 digital inputs NPN/PNP (2 Touch Probe)
- 2 analog inputs

Output

- 3 digital inputs NPN/PNP

Digital filters




- Observer on motor feedback.
- Notch filter on current reference.
- Iq filter on motor quadrature current.
- Low-pass filter on digital and analog iputs.

Drive and motor protection function

- Shortcircuit
- Over/Undervoltage
- Missing phase and AC power supply
- Missing of I/O Power
- Overtemperature of the heatsink(dynamic management of ventilation)
- Motor thermal image
- PTC management
- Tjermal image of braking resistor
- Resolver or Encoder/Hall's sensor breakdown
- Current limit

Drive interface

- 3 LEDs on the drive for signaling status and alarms. Complete information via fieldbus.

Hardware Safety Functions

- STO : safety input Safe Torque Off according to IEC61800-5 - SIL3 Cat.0: EN61508

Software Safety Functions

- Emergency or Fault reaction stops: By inertia - in Ramp - in Torque Limit
- Braking in torque limit in cases of Limit Switch in mechanical stop

Braking management

- Integrated brake management with immediate or ramp stop
- DC braking for asynchronous motors*

Drive parametrization

- Via CALIPER 4.0 software through the microUSB 2.0 port

Additional features

- Motor autophasing procedure available for every type of feedback.
- Cogging compensation for brushless motors.
Current Sizes
Sizes

Power supply
VAC
230VAC 1PH - 3Ph

Min/Max supply voltage
VDC
230VAC ±15% - 50/60Hz

DC Min/Max supply voltage
VDC
200 VDC ÷ 360 VDC

Rated current
Arms
2
4
6
Peaak current for 2"
Arms
4
8
12

Max output power

KW
0.65
1.30
2

Max output power (DC brushed)
KW
0.56
1.12
1.67
Internal braking resistor



NO
Output for external braking resistor
SI
Suggested external braking resistor (optional)
R50W47R
R90W39R
EMC filter
ESTERNO OPZIONALE ( a norma EMC 61800-3 cat.C2 e C3 )

Logic supply
VDC
24VDC ± 20%
Dynamic forced ventialtion
NO
YES
YES
Dimensions
T0
Weight
Kg
1.1

1.2
1.2

Safety functions
STO - Safe Torque Off: IEC61800-5-2:2007 - SIL3 Cat.0: EN61508:2001 ( EN954-1:1996 )
*= ( according to EMC 61800-3 cat.C3)