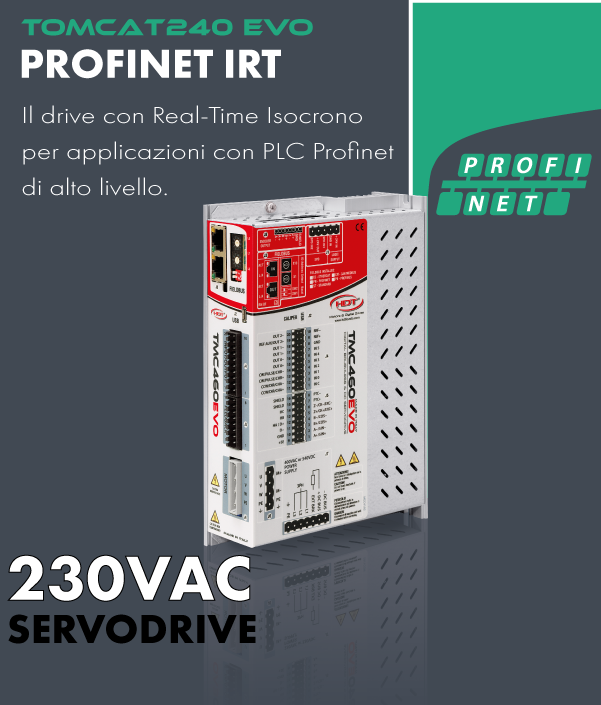 Now with TomCat you can take advantage of your ProfiNet PLCs at maximum performance.

The official "ProfiBus Nutzerorganisation" has certified the performance of ProfiNet on the TomCat Evo drive.
TomCat is able to supply ProfiNet and ProfiDrive in Real-Time (RT) of class AC1 (speed) and AC3 (positioner) and in Real-Time Isochronous (IRT) in class AC4 (isochronous control of speed, position, interpolation).
In particular, with the development of ProfiNet IRT, that is the AC4 class that allows interpolation, the TomCat servo drive allows you to take advantage of the so-called "Technological Functions" of the most advanced Siemens PLCs, also guaranteeing a Real-time of less than 1ms.
With a power range up to 2kW, TomCat is the ideal servodrive for many applications, be they positioning or refined interpolation. This compact drive is able to manage incremental but also absolute encoders (BISS, EnDat and SSI) with resolutions up to 32Bit but also analog and pulse train signals.
It is able to drive brushless and asynchronous vector motors without distinction.
And if the PLC was not in ProfiNet but in EtherCat or CanOpen .. well .. it will always be at ease.

Test TomCat Evo on your applications, there is no more flexible drive!